Blogs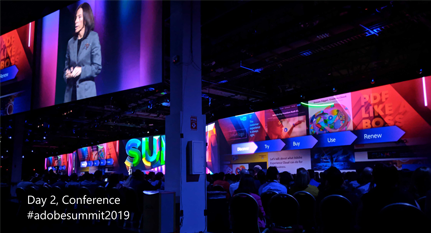 Digital Transformation: A Combination of the Right Technology, People and Process
Adobe CMO Ann Lewnes began the Summit keynote on Transformative Leadership on day 2 of the Adobe Summit 2019 – The Digital Experience Conference by stating that digital transformation is a mandate for every company across every industry. While right technology is only the first step in this journey of transformation, it should be strongly backed by people and processes.
She discussed the reinvention of roles within Adobe where market researchers evolved into data analysts and designers became "content machines" to meet changing requirements. She emphasized the need for people who weren't afraid to experiment and challenge the status quo. And to set the process right and flexible for transformation, Adobe is rebuilding itself on a culture of testing – approximately 50 tests being conducted per month.
"Marketing has never been more valuable."

Ann Lewnes, CMO Adobe
Highlighting the central role of marketing in digital transformation projects, she talked about how Adobe pushed 75% of their marketing budget to digital in the beginning of their own transformation journey. Marketing plays a vital role in the Discovery phase of the customer journey and is 100% accountable for customer acquisition.
"A great idea and a great piece of creative is at the center of every amazing experience," she told the audience while establishing the need for setting the creative bar high.
Inclusivity and Conventional Wisdom in Innovation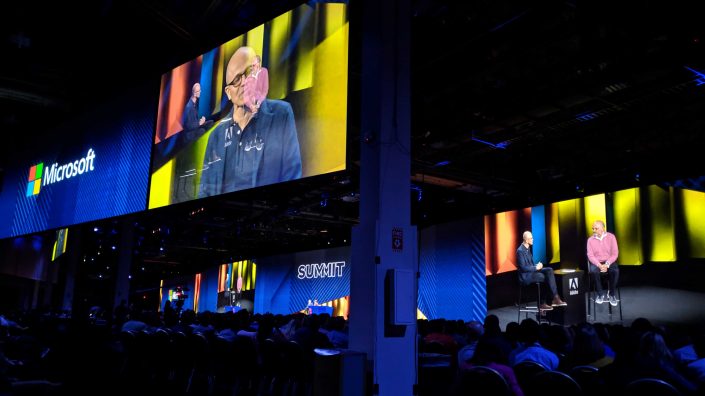 To make gaming more accessible and inclusive for all, Microsoft went ahead and created the Adaptive Controller for Xbox. Even the packaging is easily accessible – a lot of thought went into it too.
"When everyone plays, we all win."

Satya Nadella, CEO Microsoft
To Adobe CEO Shantanu Narayen's question on the requisites for getting digital transformation and innovation right, Nadella talked about the need for a sense of purpose, mission and culture. An evolution from the mindset of "know it all" to "learn it all" or as Narayen called it intellectual curiosity, he said was key in driving innovation. It is also important to empower your own people within the organisation and arm them with the right technology to improve collaboration.
Talking about getting business transformation right for enterprises, Nadella emphasized the need for a clear view of industry trends, bringing in business model shifts along with tech shifts, and a customer centric approach. The leap on products and business models is what has driven change at Microsoft.
On the power of AI to drive innovation, he talked about the opportunity for companies to create new products taking advantage of developments in AI.
He stressed the need to break down silos, bring products together and pull in capabilities to enable organisations to gain "digital independence with us," which should be the mission of enterprises.
Transformation should be about driving "deep personalization with trust", and in that endeavour unlocking the power of data is critical. The Open Data Initiative (ODI) of Adobe, Microsoft and SAP is bringing together data in an actionable way.
He concluded by stating that a combination of CMO and CIO efforts will be capable of creating a "no-regrets system" of investment – one where you don't have to be right all the time – in the digital age.
Data and Insights in Acting and Entrepreneurship
If you've been following this year's Adobe Summit closely, you would've already guessed that we're talking about none other than Reese Witherspoon.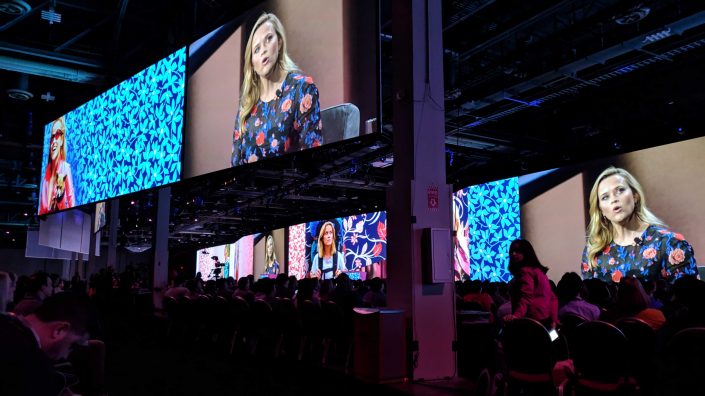 During the conversation with Ann Lewnes, she spoke about the radical improvement in insights on engagement that professionals in the film industry get now, as compared to the old days. This is a result of the interaction actors, producers and directors can have with the audience with the help of technology and digital platforms. The expansion in storytelling is because of this.
Reese talked about how data has enabled her to successfully manage her clothing brand, Draper James. In her entrepreneurship journey, she has also benefited from content streaming services – engaging personally with her audience to gain key insights.
And data has forced her to adapt.
"If you don't evolve, you expire."

Reese Witherspoon
On launching Hello Sunshine, she emphasized the need she felt to fight misogyny and stand up for her colleagues after reading the misogynistic script of a sought-after film role.
The Impact of Technological Transition on Football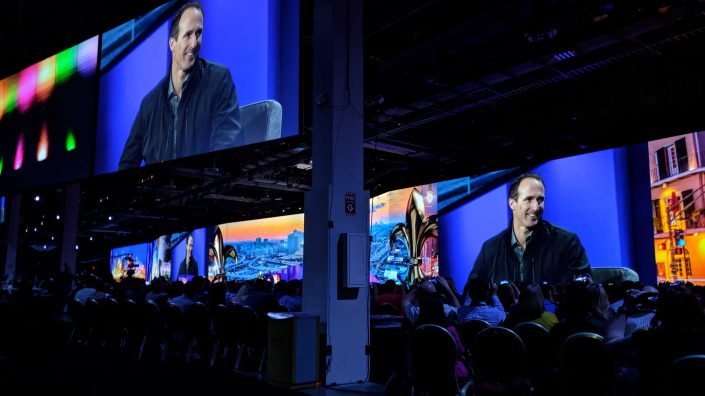 Drew Brees, quarterback New Orleans Saints, took the Adobe Summit 2019 attendees through his journey as a footballer, parent and the ups and downs in his footballing career during his conversation with Pam Oliver, Sr Correspondent, NFL Reporter, Fox Sports.
While talking about the relevance and necessity of technology in football, he explained how the shift in technology has also led to a change in match preparations. From tackling films of VHS tapes to clicking buttons on computers to pull up matches, practice methods and plays, the use of technology in football has come a long way too. The one-click information processing system has enabled a more efficient preparation and better game strategy creation.
He ended by emphasizing the need to be grateful, humble and respectful. When asked about how he would like to be remembered, he spoke about what he feels is a great approach to life,

"I would love for people to say that I did it the right way, that I left it better than I found it."

Drew Brees
Day two ended with Bash where The Killers gave us an amazing performance.
Team Argil DX is excited about Day 3 of the Summit and is eagerly looking forward to it. You'll find us at Booth 771-A of the Community Pavilion at the Adobe Summit 2019.
Related blogs:
Reinventing B2B Marketing: Account-based Marketing (ABM)
Customer Experience Management: The Key to Success in the Digital Era