Blogs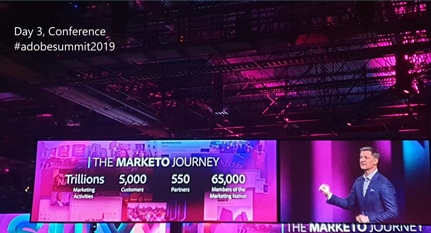 Account-based Marketing (ABM): Reinventing B2B Marketing
Steve Lucas, SVP Marketo, welcomed attendees to Marketing Nation keynote on day 3 of Conference at the Adobe Summit 2019, Las Vegas. The main focus of the day was Marketo's Account-based Marketing in B2B Marketing. Expressing his excitement over the possibilities of Adobe and Marketo as one organization, he welcomed Adobe CEO Shantanu Narayen with his own quote,
"People buy experiences, not products."
Talking about the acquisition of Marketo, Narayen gave away the three factors that are key in successfully carrying out M&As – a shared vision, people and culture. Bringing forward the main agenda of the Summit yet again, he talked about customer centricity and the importance of identifying your customers in terms of B2B or B2C, and the blurring line between the two. The road to realizing a fulfilling customer experience is understanding who your end customers are, how they are using your products and using digital to engage with them. This creates an awareness that helps build better products focused on customers.
Narayen ended his brief but insightful stay on stage with the message,
"Digital is either gonna be a headwind or a tail wind and when it's a tailwind the power of digital really enables you to serve your customers so much better."
Building Strategy on What People Do – Not What They Say
"Experience changes everything," Steve said as he used examples of Uber and Airbnb to explain how experience has made all the difference in how we do business. We do not see any ads for the services these companies provide because their marketing and selling is the experience. Contrasting Coachella and Fyre Fest, he talked about how the former has been able to do much better than the latter due to delivering great experience time and time again with amazing music and content.
"Experience is the line between epic and epic failure."
CRM's flaw comes from the fact that it is built for salespeople and relies on their input and perceptions of customers. And going forward, the bestselling strategy would be one that is based on what people do and not what people say.

For everyone in the B2B business, it's about making every experience epic – to make customers come back for more. It's the role of B2B marketers to do this with intensity to drive incredible engagement. The goal behind Marketo becoming a part of the Adobe family is to drive the next generation platform, Adobe Experience Cloud. This platform gives marketers the tool to deliver engaging content to the right person at the right time and right place, and adapt to change and time.
The creative power of Adobe has supercharged Marketo Engage with ads, analytics, content and commerce from the Adobe Experience Cloud. Marketo is now, more than ever, ready to change the game with Account-based experience (ABX).
Account-based experiences start with data and B2B marketers need a different set of data. Now, this will be facilitated by the strategic partnership involving Adobe, Microsoft and LinkedIn, which will help marketers gain deeper insights at a granular level and engage with buyers.
He announced an industry-based partnership with Drift built around conversational "account-based marketing (ABM)". With this, organizations can now deliver personalized VIP experience at scale by using intelligence in their Marketo database to power personalized, real-time conversations with your target account on every website visit.
The Future of B2B Marketing: ABX
Marketo VP Matt Zilli took the stage to talk about the art and science of marketing. Breaking the bounds of marketing by marrying the creative (the heart and soul of marketing) with campaigns is what he stressed on before introducing new product innovations at Marketo.

The session began with a showcase of the ability to access Experience Manager assets from Marketo Sky to blend content and campaigns to enable faster personalization of every campaign.
The importance of data was highlighted yet again in the Summit with Matt talking about creating amazing B2B experiences using data, intelligence and insights. Marketo Platform becoming a part of the Adobe Experience Cloud is going to unlock a new data-rich experience for consumers. All of your data in one place regardless of source or type, a unified profile of every person and every account in words marketers speak and understand to create connected experiences.
Bizible will help marketers tell the untold story of data through analytics. Predictive Audiences for events will use the power of Sensei to help you target the right size of audience for your marketing campaigns.
Making ABX achievable to all is a challenge as most times marketers are unable to decide the account to go after. Account Profiling will help you find accounts outside your database that you can target. This helps you kickstart your account-based experience strategy. Target your key personas using paid media by sharing your account list with LinkedIn. Combine all these and you get a comprehensive solution to manage Account-Based Experiences.
According to Jessica Kao, Director Client Services Digital Pi, the first challenge in successful implementation of ABM is bad data, which is usually incomplete or filled with holes. Secondly, the lack of holistic coordination across various touchpoints. Thirdly, a lack of organizational alignment – the lack of understanding between your Marketing and Sales team as an example.
Boosting AI with Parallel Computing through GPUs: The Nvidia Story
Alix Hart, Global Head of Digital Marketing at Nvidia, told the audience how Nvidia is delivering intelligent experiences to customers, from avid gamers to AI researchers.
She told the audience about the three ways Nvidia is moving the needle of digital transformation. One is creating a unified customer view by bringing both digital and in-product data together. Two, they created lead scoring models improved with Marketo and built programs for the middle of the journey, to get the most engagement with customers. Third, they transformed insights by turning feedback data into insights. They improved their social media listening model to learn how customers engage with them emotionally.
They also came up with a customer segment scorecard to better understand engagement with each segment to optimize content faster. Nvidia's goal, Alix informed audiences, is to make sure that they are connecting with and engaging customers intelligently.
Taking Customer Experience Beyond Numbers
The Summit was built around discussions on customer-centric models of business operation, marketing and innovation. Empathy, purpose, problem solving, people and culture came out as the cornerstones for building truly amazing customer experiences by leveraging data, AI, ML and other relevant tools, technology and innovation.
Looking Forward to the Next Summit!
We too put our best foot forward and exhibited our ADX Tools and our demo on Customer Experience Transformation using an AI and ML powered tool that is designed to blend online and in-store retail experiences. Thanks to everyone who visited booth 771-A and showed their genuine interest in our innovations and ideas.
It was another great day of learning for Team Argil DX. Summit 2019 had some mind-blowing innovations that wowed us and upcoming technologies that left us excited about Adobe's next digital experience conference, Summit EMEA.
Related Blogs:
Digital Transformation: A Combination of the Right Technology, People and Process
Customer Experience Management: The Key to Success in the Digital Era