Blogs
Selective Replication Tool: Bulk Content Replication Made Easier
Selective Replication tool, which is one of the tools in the ADX Tools package, simplifies bulk activation, deactivation and delete operations for AEM users.
Selective Replication Tool augments AEM Activation Tree with some useful additional features. AEM Activation Tree is a replication console to activate the entire tree in one action. Selective Replication tool adds to the utilities of bulk activation, deactivation and delete operations. The task gets even simpler when there is an option to selectively choose the root paths to replicate, with an added advantage of selecting the replication agents. To further apply the feature of selectivity, users have the option to include or exclude child node or DAM assets.
Purpose of the Selective Replication tool:
To perform bulk activation, deactivation or delete operations on a path-task list uploaded via Excel with the ability to select relevant replication agents.
Implementation of the Selective Replication tool:
The simplest part of the tool is its input, which is uploading an Excel file containing the path-task list. A sample excel file can be downloaded using the 'Sample' button present in the description.

Excel file contains the following fields:
Path – root path for operation
Include Children – option to include child nodes of content or not
Include DAM Assets – option to include DAM assets of content or not
Action Type – defining the type of action (Activate, Deactivate, Delete)2. The tool gives an option to select multiple replication agents from the available list.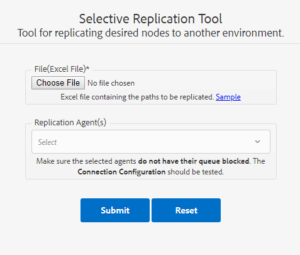 We can get detailed replication logs with the option to export it as an Excel file or pdf.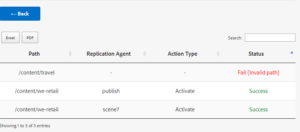 Users also get the option to see the history of the operations performed by clicking on the history icon present on the top right corner of the tool along with the tool guide.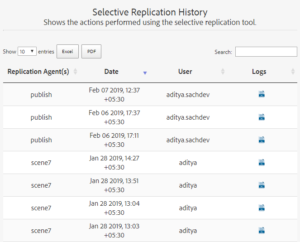 Each of the individual logs can be viewed by clicking on the respective Logs icon. This action will retrieve the history of that particular operation.
Key Highlights of the Selective Replication tool:
Option to selectively choose the root paths for replication
The advantage of choosing relevant replication agents
Simple path-task list input via Excel
Include or exclude child nodes/DAM assets
Detailed replication logs of each root path
History of replication actions performed via this tool
The video demonstration of the Selective Replication tool can be viewed at:
Related Blogs:
We at Argil DX are dedicated to improving your AEM experience and usability. Get in touch with us to know more about our services and AEM expertise.
To download the ADX Tools package submit a request and we will deliver the package on your email within 15 working days.